Going vegan is a big life choice. These famous celebrity vegans say that going vegan has improved their skin, exercise regime, and overall life.
Famous vegans people
1. Ellen Page

The page is a longtime vegan who's outspoken about her reasons for the lifestyle, the main one being her core belief in social justice. As if she couldn't get anymore crush-worthy.
2. Jessica Chastain

The actress has been a vegetarian for over 15 years, and a vegan for eight.

Famous for her roles in The Help, The Debt, Take Shelter and The Tree of Life. Both her mother and father are also reported as being vegan.
3. James Cromwell
Cromwell became a vegetarian after filming Babe, which might just be the best reason for switching ever. He's now also a vegan.
4. Alicia Silverstone
A famous animal lover, Silverstone has been vegan since 1998, when she was 21. Before she made the switch, she says she was battling severe asthma, insomnia, acne, and constipation. "I used to have all those white marks on my nails and they were very brittle, and now they're so strong I cannot bend them," she said on Oprah. After adopting a vegan diet, she says those issues cleared up, "and I feel like I look less puffy."
5. Ariana Grande
Grande has been vegan since 2013, and explained her decision to Mirror this way: "I love animals more than I love most people, not kidding. But I am a firm believer in eating a full plant-based, whole food diet that can expand your life length and make you an all-around happier person." It sounds [vegan]-cheesy, but it's true.
6. Ellen DeGeneres
I love DeGeneres' explanation above of why she's vegan because I really relate to it. I too watched the documentary Earthlings, and it also changed my association with eating or wearing animal products forever. DeGeneres has been a vocal animal advocate and uses her show as a platform to sometimes bring awareness to a mainstream audience.
7. Joaquin Phoenix
Not only has Pheonix been a vegan since age three, but he's also responsible for converting Degeneres and many of the rest of us over to veganism with his powerful narration of the documentary film Earthlings. If someone were to win this list, it would be him.
8. Miley Cyrus
Miley has been vegan since 2014 and says her pet fish and pig inspired her to make the switch. "I realized these are intelligent animals," she told Jimmy Fallon. Her pig is also vegan.
9. Liam Hemsworth
Perhaps it's Miley's influence? Hemsworth actually mostly credits Hunger Games costar Woody Harrelson with opening up his mind. "I have a lot of friends who are vegan. Woody Harrelson was actually one of the original reasons I became vegan because he's been vegan for, I don't know, 30 years or something," Hemsworth told Men's Health.
"After all the information I gathered about the mistreatment of animals, I couldn't continue to eat meat. The more I was aware of, the harder and harder it was to do. About six months ago I went and saw a nutritionist to do a blood-diet analysis. He basically told me, based on my blood type and all the other different little tests they do, that red meat was good for me, and I should eat a lot more red meat and various other foods. So I started doing that, and the more red meat I ate, the worse I felt." It's no secret meat is actually bad for you, and luckily, Hemsworth listened to his body. He's been vegan since 2015.
10. Woody Harrelson
Harrelson has been vegan for over 10 years, and as we saw above, he can also be credited with helping turn Liam Hemsworth even hotter. "It's been all good. I'm obviously much healthier," he said of his diet.
11. Mayim Bialik
The Big Bang Theory 's Mayim Bialik even has her own vegan cookbook. She credits Jonathan Safran Foer's book Eating Animals with her decision to go vegan.
12. Joan Jett
The frontwoman of the Runaways and the Blackhearts has been vegan since the 1980s: "Twenty years ago I thought: What's the difference between eating a bloody steak and killing my dog, slitting him open and roasting him?"
13. Bellamy Young
The Scandal star went vegan in college. "It came to me in a very strange way. I was at college, it was a sophomore year and I got the baked breast of chicken and they sort of plated it weird. As I lowered it down to my tray, it looked exactly like my mom's little furry yippy dog when she'd roll over and want you to rub her tummy. That was it," she told YouBeauty.

"I think veganism has a branding issue, but other than that, it's a great way to live. I know a lot of people now like to go with a 'plant-based diet' instead. I guess that makes it a little bit more palatable, but for me, it was the answer to a myriad of things that weren't working in my life. I had terrible cystic acne, no energy at all, I didn't always digest food perfectly."
14. Casey Affleck
Affleck has been vegan for over 15 years, and as you can see above, he's pretty clear about his reasons and outspoken in his activism.
15. Daniella Monet
Monet plays Trina Vega in Victorious on Nickelodeon, and also works as a young activist for PETA.
16. Moby
The musician and famous vegan of over 30 years wrote about his decision to become vegan in Rolling Stone, explaining, "My reason for becoming a vegetarian was simple: I loved (and love) animals and I don't want to be involved in anything that leads to or contributes to their suffering … Then I thought, 'I don't want to contribute to animal suffering. But the cows and chickens in commercial dairy and egg farms are pretty miserable, so why am I still eating milk and eggs?' So in 1987 I gave up all animal products and became a vegan. Simply so that I could eat and live in accordance with my beliefs that animals have their own lives, that they're entitled to their own lives and that contributing to animal suffering is something that I don't want to be a part of."
17. Dawn Richard
When her father was diagnosed with cancer, the musician and former Danity Kane member (flashback!) decided to go vegan to minimize her health risks and is now a self-proclaimed "avocado junkie."
18. Morrissey
Famous for "Meat is Murder," surprisingly, Morrissey only went fully vegan in 2015, after being an outspoken vegetarian for over 30 years.
19. Russell Simmons
"Well, it started with my yoga practice and you know, the practice of non-harming, 'ahimsa,'" Simmons told Al Roker on Today. "So I became a vegan because [of] compassion [for] the animals … The vegan diet was being discussed around me all the time, so finally, I just made the choice." Love him.
20. Sia
Sia has been vegan since 2014, and it may actually be one of the least quirky things about her.
21. Stevie Wonder
Stevie Wonder has been vegan since 2015. "I like not eating meat," he says.
22. Pamela Anderson
PETA got a lot of flak for this ad with famed vegan Pamela Anderson since some saw it as objectifying women. But I think that's exactly the point: We objectify animals and their parts in the same way society tries to reduce women to theirs'. If it upsets us as feminists when people do it to women, it should also upset us when we reduce animals to nothing but parts to be consumed, impregnated, or milked. If you think it's "just different" for animals, know that that's the same logic men have long used against women.
23. RZA
Legendary rapper, producer, and leader of the Wu-Tang Clan tells PETA he's vegan in part because "it doesn't make sense to put "dead flesh" into a "live body."
24. Peter Dinklage
God, as if he weren't cool enough, he's also been a vegetarian since childhood, and is now a vegan, according to PETA.
25. James Cameron
Vegan filmmaker James Cameron says we need to transition to a meatless world within 20 -30 years for the sake of the planet.
26. Kate Mara
The actress has been vegan for over five years, and explains the choice this way: "Every time we sit down to eat, we have a choice. By choosing more meat-free meals, we're saying 'yes' to better health, 'yes' to a better environment, and 'yes' to better treatment of animals. Being vegan has been so good for me. I've never felt better … I was a meat-eater for a long time, and I would have made different choices in my diet if I had known the facts about factory farming. I now feel it's my moral obligation, and I'm very passionate about educating people on making better, more humane choices when it comes to the food we eat."
27. Rooney Mara
Veganism seems to run in sisters. "Of course I eat. I eat a lot," she says. "I love to eat. But I'm a vegan."
28. Al Gore
OK, so maybe he's a politician, but let's be real. Al Gore is also a celebrity — and he is no hypocrite. The environmentalist knows that going vegan is one of the best things he could have done for both his health and the planet.

"Over a year ago I changed my diet to a vegan diet, really just to experiment to see what it was like," he told Medscape. "And I felt better, so I continued with it. Now, for many people, that choice is connected to environmental ethics and health issues and all that stuff, but I just wanted to try it to see what it was like. In a visceral way, I felt better, so I've continued with it and I'm likely to continue it for the rest of my life."
29. Evanna Lynch
The Harry Potter actress doesn't just play a loving character — she is also a loving vegan herself. At an acceptance speech in March, Lynch said that "killing and eating animals is a betrayal of our own core humanity," adding, "killing an innocent goes against our nature."
30. Wacka Flocka Flame
The rapper told Vice in February that he is now vegan because he "didn't want to be fat."
Vegans musicians
A$AP Rocky
Rakim Mayers, better known by his stage name A$AP Rocky, is an American rapper, record producer, director, and actor from Harlem, New York. He is a member of the hip hop group A$AP Mob.

You gotta go do research on the way they treat like fucking chickens, man. Those chickens go through fucking torture before they're processed and shit, have all sorts of fucking steroids injected in them and everything.
Adele
Multiplatinum recording artist Adele went vegetarian in 2011. She told Radio 1: 'I'm trying to be veggie. Whenever I'm about to eat meat I always see my little dog's eyes.'

Whenever I'm about to eat meat I always see my little dog's eyes.
Akala
Kingslee James Daley, better known by the stage name Akala, is a rapper, poet and academic, and brother of rapper/vocalist Ms. Dynamite. Vegan since 2006.

I don't believe human beings are designed to eat meat, I believe that meat is detrimental to our health… Humans are the only animals in the world that drink another animal's milk, and we just assume it's normal and logical, and people will actually argue with you until they're blue in the face that humans are designed to drink cows milk. But we're not cows.
Alan Donohoe (The Rakes)
Active from 2003-9, The Rakes combined a Franz-style post-punk strut with wry social commentary on catchy singles such as '22 Grand Job' and 'All Too Human'.

"Being in The Rakes was an insane rollercoaster, but singing the same songs for seven years got boring in the end. And if you're doing something just because you can't imagine an alternative then you're not really living.

"Afterwards I was a bit lost, but I'd developed tech before so I went back to it. People call me a 'developer' or a 'digital creative' but old-fashioned types would say I was a programmer. I work for a company in Brighton and one of my colleagues used to be in Utah Saints. Sometimes I jokingly tell friends that tech is where rock stars go to die, but in many ways it's a lot more creative and interesting than rock'n'roll. I'd enjoyed writing music that people connected with, but this work provides an intellectual challenge that music lacked."

I am a vegan, and that diet is very good for the environment.
Alanis Morissette
I realized I want to live until I'm 120. There's a lifestyle that I am now happily creating that can, as best as is possible, prevent most forms of cancer and other diseases.
Alissa White-Gluz (The Agonist)
The former Agonist member was vegetarian from birth and went vegan at age 13.

Being vegan allows me to devote myself to my cause every day of my life.
Alistair Stobbard
The Drummer from 10,000 Things went vegetarian at around age eight and is now vegan.

It happened through common sense really. I realized that by still eating eggs and dairy I was, in a way, still supporting the meat industry and animal cruelty.
Andy Hurley
I went vegan at age 16 after hearing about the horrifying conditions on factory farms.

I just like not having a dependency on other forms of life. I like having a compassionate way of life.
Ariana Grande
American actress, singer, and dancer, best known for her role as Cat Valentine on Nickelodeon's Victorious. Her first single "Put Your Hearts Up" gained great attention, debuting at number 25 on the US pop charts.

"I love animals more than I love most people, not kidding. But I am a firm believer in eating a full plant-based, whole food diet that can expand your life length and make you an all-around happier person. It is tricky dining out, but I just stick to what I know — veggies, fruit, and salad — then when I get home I'll have something else."

While health and happiness helped to motivate her to make this diet shift, her love of animals trumps everything else. And despite her Italian roots, it wasn't that difficult to give up meat and cheese, she said because she had had enough of it growing up "for anyone's normal life span."

Over the past year, Grande has been very vocal about the consumption of animal products and animal rights. In an interview with V Magazine, she bluntly said she didn't think humans should be drinking milk from cows (who "produce milk with nutrients for cows," she explained). She was also amongst the many celebrities who spoke out against SeaWorld after it had been exposed by the documentary "Blackfish" for kidnapping and mistreating its whales.

I've eaten organically since I was little and always kept meat minimal but today marks my first day as a 100% Vegan!!!! Joyous day. (November 5th, 2013).
Famous vegans restaurants
50th. Greenery – Makati, Philippines
This rustic cafe in Manila is the go-to for healthy vegan and organic food when in the Philippines. Colorful plates piled high with salads and meat-free versions of the country's tastiest recipes.

49th. Mildred's – London, United Kingdom
Mildred's has been a staple of London's vegetarian and vegan scene since the 1980s and shows no sign of slowing down. Always busy and always tasty, this is consistently superb. This is heavenly lunch grub done right.
48th. Il Margutta – Rome, Italy
This beauty puts a plant spin on modern Roman recipes and is simply outstanding. They serve breakfast, brunch, lunch and dinner – whatever you eat is healthy, tasty, organic, natural and original.
47th. The Raw kitchen – Perth, Australia
The Raw Kitchen is a beautiful restaurant, lifestyle store and yoga space all in one. Its progressive plant-based cuisine is made without any dairy, gluten, refined sugar or additives. And yes, they do cooked food also, such as a delectable Beetroot Ravioli.
46th. Sesamo – Barcelona, Spain
One of the city's yummiest restaurants, Sesamo is a tapas-style place that's ideal for a night out with friends. Although the menu does feature some dairy products, they adapt well for vegan options. Food is full of flavor and perfectly Spanish.
45th. Super Natural Kitchen – Dubai, UAE
Super Natural Kitchen is Dubai's first and only 100% raw, vegan, gluten-free, sugar-free and preservative-free kitchen and restaurant. Plates this good need to be shouted about from the rooftops.
44th. Genesis – London, United Kingdom
Genesis is a 100% plant-based restaurant that does fast-casual dining and organic comfort food. This means you can feast on Hoisin Jackfruit Tacos, Seitan Shawarmas and Kamut Mac 'n' Cheese.
43rd. Sally Voltaire & Systrar – Stockholm, Sweden
Calling themselves a "food-spa", they serve modern vegetarian food that is super vegan-friendly. The menu uses ingredients chosen in season from local farmers, to create dishes that are simply stunning.
42nd. Sanskruti – Liverpool, United Kingdom
Sanskruti's vegan and vegetarian menu has all the best flavors of the Indian sub-continent. Their Pani Puris are just the right amount of crispiness and flavour, and they also do South Indian dosas and daal. Ideal for a hearty feast.
41st. Narcissa – New York, USA
Even though Narcissa has meat on its menu, it earns its place with its keenly sourced local ingredients from the restaurant's own Upstate farm. A sharp farm-to-table ethos means the menu is always exciting and staff will happily help with vegan options.
40th. Gentle Gourmet – Paris, France
100% vegan and insanely good, Gentle Gourmet is on a mission to combine French gastronomy with an ethical way of cooking, to give people a 'Vegan Haute Cuisine' experience. The result? 100% tastiness.
39th. Kynd Community – Bali, Indonesia
Kynd Community is a popular cafe in Bali that you've more than likely seen all over your Instagram already – those smoothie bowls are some of the prettiest we've ever seen. Their menu tastes even better; try the 'Anti-Cruel Platter' stacked with veggie goodness.
38th. Blossom – New York, USA
One of New York's top vegan restaurants, Blossom has two locations in the city; one in a historic Chelsea townhouse. Their fresh organic ingredients come from local farms and all of the dishes are completely animal-free.
37th. Gustav – Salzburg, Austria
Gustav is a cute cafe with sustainable and delicious breakfast options, salads, gourmet sandwiches, and smoothies. It's casual in all the best ways and is an absolute must-visit when in the area.
36th. Chirimoya – Salta, Argentina
Chirimoya is an artsy vegan restaurant that magics the most mundane of vegetables into pure masterpieces. Dishes are beautifully presented and will change your perception of Argentinian cuisine.
35th. Raw and Roxy – Cape Town, South Africa
This cool cafe has delicious raw vegan meals, gourmet salads, guilt-free desserts, smoothies with superfoods and tonics to boost your immune system. Raw sushi with cauliflower rice and a creamy cashew nut pasta are two highlights.
34th. Nanka – Lima, Peru
Nanka impresses with its seasonal, sustainable, locally-sourced and organic products. While it's not exclusively vegan, they try to substitute plant produce whenever possible and go out of their way with vegan options.
33rd. Vegan Food Project – Lisbon, Portugal
You can't come to Lisbon and not eat in this vibrant vegan bistro that does daily changing specials. There's also a set menu of lentil or beet burgers, vegan cheesy sandwiches on homemade bread and desserts.
32nd. Simpsons – Birmingham, United Kingdom
Simpsons is a Michelin-starred restaurant with vegan tasting menus if you order in advance. It's one of Birmingham's finest restaurants and is driven by what's in season. Perfect for a special occasion.
31st. Forever Vegano – Mexico City, Mexico
Forever Vegano is a plant food haven in Mexico City. It aims to make most of its dishes prepared with fresh, local ingredients that are animal, additive and refined sugar free. Coco Ceviche and Tempura Cauliflower tacos show off the best of Mexico.
29th. Vedge – Pennsylvania, USA
Vedge proves itself time and time again with an exciting dining experience inspired by seasonal vegetables. The dinner menu has cold dishes and vegetable charcuterie to get started, as well as richer main plates and vegetable sides. Order the Romanesco "Carbonara" and get ready to drool.
28th. Paperbark – Sydney, Australia
Paperbark works with small-scale producers, minimum-intervention wine and native Australian ingredients. Their three course tasting menu changes weekly and is always fresh and exciting. Plates are picture-perfect.
27th. Pollen Street Social – London, United Kingdom
Chef Jason Atherton's Michelin-starred London restaurant does a luxurious eight-course vegan menu made from fresh seasonal ingredients. You can also indulge in a Vegan Afternoon Tea, with treats including Jerusalem artichoke, hazelnut & Périgord truffle.
26th. Charlie was a sinner. – Pennsylvania, USA
Ideal for vegan date night, Charlie was a sinner is a super sexy cocktail bar that also serves 100% vegan food. Choose from snacks such as charred Shishito Peppers or a heavenly Silken Tofu and Mushroom Ramen Pasta.
25th. Bon – Tokyo, Japan
Bon is a unique dining experience that's a real hit with both vegans and meat-eaters. The menu is based on the ancient vegetarian cuisine of Zen Buddhist monks in China and Japan. Super authentic, and oh-so-tasty.
24th. Purezza – London, United Kingdom
Think pizza needs real cheese to be tasty? Think again. Sourdough or hemp bases here are perfectly charred and chewy, while a brown-rice milk mozzarella tastes just like the real thing. They also do raw cashew cheeses and a creamy coconut cheese that's out of this world.
23rd. The Allotment Vegan Eatery – Manchester, United Kingdom
Not only does this all-vegan place do a 10-course menu with the option of adding in a vegan cheese course, but it also does a great job of promoting Veganuary each year with special menus.
22nd. Elemen – Singapore
Elemen has some of the best vegetarian Asian Fusion food in Singapore, with many dishes 100% vegan. They focus on sustainable ingredients that aren't harmful to the environment and it's all fantastic. Everything tastes just as good as it looks.
21st. Crossroads – Los Angeles, USA
Crossroads serves mouthwatering Mediterranean meals with swish cocktails to match. With chefs focusing totally on flavor and presentation, most people don't even realize that the menu is pure plant-based. It's a popular spot with the in-crowd and we can see why.
20th. El Huerto – Santiago, Chile
El Huerto, located in a very charming area of Providencia, has been creating recipes for non-meat eaters since the early 80s. Colorful plates of local vegetables, seaweed ceviches, and fresh juices will win you over.
19th. Millennium – Oakland, USA
Working with small farms, their menu changes constantly to showcase the finest local, sustainable, and organic produce at its peak. There are Pistachio Stuffed Dates and all sorts of other good things to eat. It's a classic.
18th. Mono – Glasgow, United Kingdom
Mono is a funky cafe with a home-cooked menu that's free of all animal products. They do vegan versions of all your faves, such as a Seitan Cubano sandwich or tofu fish and chips. It also has an in-house independent record store and hosts regular gigs.
17th. Shizen Vegan Sushi Bar and Izakaya – San Francisco, USA
This vegan sushi bar combines classic shojin and sushi techniques with local, seasonal ingredients to create healthy and flavorful dishes. Sushi is filled with smoked beets or spicy tofu and is to-die-for.
16th. Mr & Mrs. Watson
Mr & Mrs. Watson proves once and for all that vegan food is anything but boring. Cooking "comfort food with a culinary twist", this is food that makes you curious and happy. Be sure to try the award-winning vegan cheeses.

15th. Bunna Cafe – New York, USA
Bunna Cafe is the best place in the city to go to for Ethiopian vegan delights, to share with a group of friends who love food just as much as you do. Authentic (and vibrant!) piles of delicious food are served on top of sourdough flatbread to scoop it up.
14th. Joia – Milan, Italy
The first vegetarian restaurant to win a Michelin star in Europe, Joia is constantly pushing the boundaries when it comes to creative ideas for plant-based food. While it is vegetarian – not 100% vegan – they do have miso veg cheese and other vegan substitutions.
13th. Homegrown Smoker – Oregon, USA
What looks like an absolute carnivore's playground at first glance is actually a vegan BBQ in Portland that goes above and beyond when it comes to plant-based comfort food. Deliciously smoked seitan transforms into beef ribs that wouldn't be out of place in the south.
12th. Lucky Leek – Berlin, Germany
Lucky Leek is an absolute shining star among Berlin's great vegan scene, and it shows no sign of stopping. A seasonal menu has delights such as radish carpaccio, savoy ragout, and grilled seitan escalopes.
11th. Acorn – Bath, United Kingdom
A stylish restaurant in one of Bath's oldest buildings, Acorn carries across that same charm to each and every plate of food. Menus completely redefine vegetables. Think dishes like Jerusalem artichokes filled with a mousse of their own flesh, sunflower seed, and apple.
10th. Fancy Radish – Washington DC, USA
Fancy Radish is a fully vegan restaurant from the genius couple behind Vedge (no. 29 on this list). It will convince even the biggest carnivore of the beauty of plant-based eating. Simple, yet brilliant.
9th. Anothai – Bangkok, Thailand
Anothai does a (mostly vegan) globetrotting menu with Thai, Japanese and Indonesian influences. Organic vegetables come from Anothai's own farm and you won't need to worry about a stray splash of fish sauce. This is worth seeking out.
8th. Grassroots Pantry – Hong Kong
Grassroots Pantry is a key driver in Hong Kong's green eating scene, using sustainable, plant-based ingredients. Space itself is as effortlessly cool as the menu – clean and colorful. This is modern vegan food at its best.
7th. Anastasia – Tel Aviv, Israel
Anastasia is Tel Aviv's tastiest vegan restaurant. We love that it doesn't even promote itself as being 'vegan' – simply serving plant food as it should be. Their homemade labneh and feta cheese are some of the best you'll ever try.
6th. Elizabeth's Gone Raw – Washington DC, USA
Elizabeth's Gone Raw is fine dining experience with the most beautiful raw-vegan creations imaginable. The seven-course menu changes monthly, as do the craft cocktails to match. Open only on Friday and Saturday nights, be sure to book ahead.
5th. Kopps – Berlin, Germany
This rustic bar-restaurant combines healthy, regional fresh ingredients that are typically German yet vegan. They have a seasonal tasting menu as well as satisfying dishes for brunch and lunch. Be sure to order a cheese plate of cashew and mustard.
4th. Yellow – Sydney, Australia
Yellow has a plant-based menu with a focus on interesting and heirloom vegetables, grown by local suppliers. The wine list has an emphasis on organic, natural and rare wines. Stylish and relaxed.
3rd. Smith & Daughters – Melbourne, Australia
Smith & Daughters has a rock 'n' roll vibe and laid-back Italian food, bringing the very best out of plant food. It's fun, tasty and one-of-a-kind. Make sure you try their dessert cocktails. It's the only proper way to finish off such a memorable meal.
2nd. Pied à Terre – London, United Kingdom
This Michelin fine dining restaurant offers vegetarian and vegan menus. A whole 10 courses of incredible produce, presented in ways that are fresh and exciting. Eating here is an unforgettable experience.
1st. The Acorn – Vancouver, Canada
The Acorn is a vegetable-forward restaurant and bar at the heart of Vancouver's Main St. They are inspirational when it comes to their vegan options. This is the sort of place you would happily dine in every day for the rest of your life – it's just that tasty.
To be a successful vegetarian is to understand how to come up with the best meals that accommodate your restrictions. Once you go vegetarian, beans, soy and every single vegetable in the entire world become your best friends. Therefore, after you've been a veggie for a while, you kind of develop a favorite dish — a solid standby you can always go to when the going gets tough.
Thankfully, many different cuisines embrace vegetarian dishes. It can be hard to choose your absolute favorite Indian meal or your favorite pasta dish. But there are classics, and they must be ranked. Henceforth, we give you the top 19 vegetarian foods ranked from worst to best.
19. Any kind of fake meat (WORST)
Just no. Most of the time these products don't taste anything close to the real deal (except for MorningStar chicken nuggets and MorningStar sausage patties).
When you first become a vegetarian, rice and beans are just wonderfully delicious. After about a year, the taste of the two together becomes increasingly bland. After two years, the thought of just having this is laughable: There are so many better options.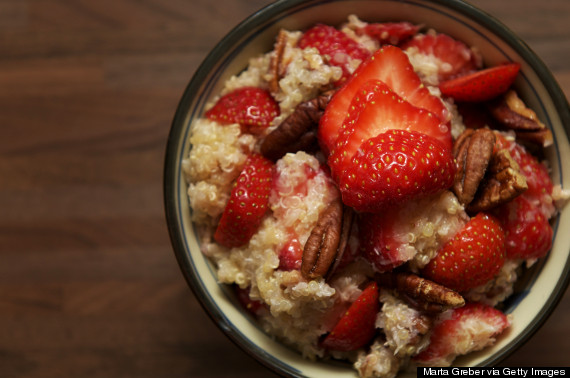 Yes, quinoa is a great source of protein and it is extremely versatile. We love quinoa! The only problem is that every non-vegetarian seems to think this trendy food is all we eat and now it's become a super-stereotypical vegetarian food. Newsflash: We really don't eat it every single day.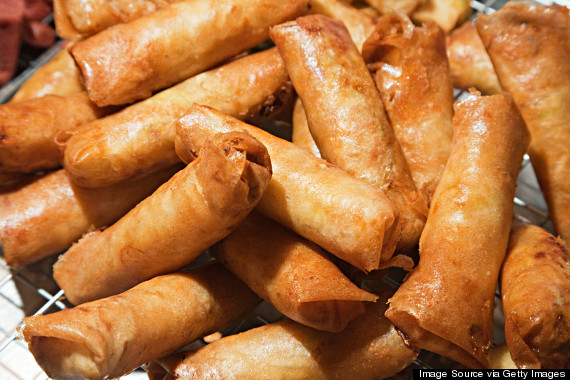 Spring rolls are cool because it makes us vegetarians feel good about being able to split appetizers at Asian restaurants. However, there's really not much to them… they are really just some veggies wrapped up and fried. Still, that doesn't mean that they aren't straight-up delicious.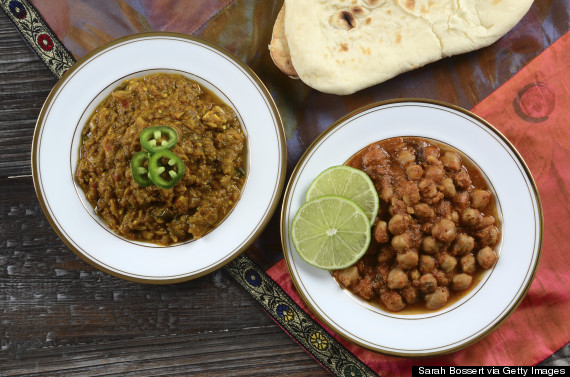 Beans are the center of so many great and different vegetarian meals: Chana Masala, lentil soup, black bean soup, and countless stews. The only problem? Beans get really boring after a while.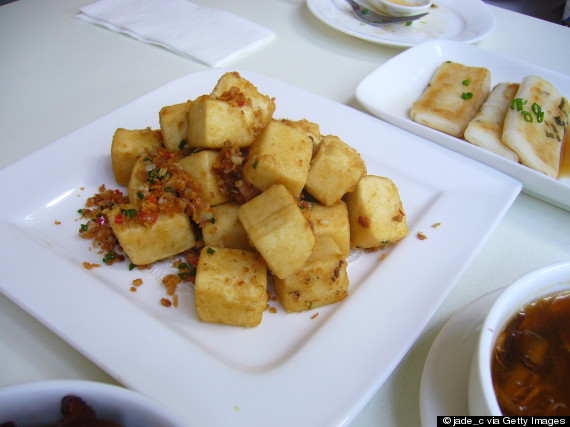 Yes, tofu is probably the most stereotypical of vegetarian foods. But there may be a reason for that. Tofu is pretty tasty, and it can be used in so many different ways. It's like a sponge, capable of soaking up a myriad of different flavors. Throw it in a stir fry, have it with peanut sauce or have it in a noodle dish. It provides great substance and texture and it doesn't hurt that a lot of Asian restaurants happily substitute meat with it.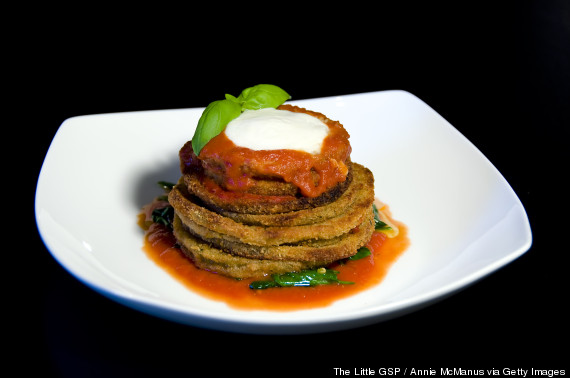 This is a wonderful thing that exists because it allows vegetarians to understand the pleasure of chicken or veal parmesan without having to break their eating choices. Plus, eggplant has such a similar consistency to meat, it's really hard to tell the difference (in our opinion). Side note: We are aware that parmesan cheese is not technically vegetarian; it contains rennet (an ingredient sourced from the stomach of calves). Therefore, very strict vegetarians should not consider this one of their favorite foods.
Many thanks to the restaurants who include a tofu scramble on their brunch menus. A perfect substitute for a vegan who wants an omelette, the tofu scramble is a perfect breakfast choice for those who have restricted diets.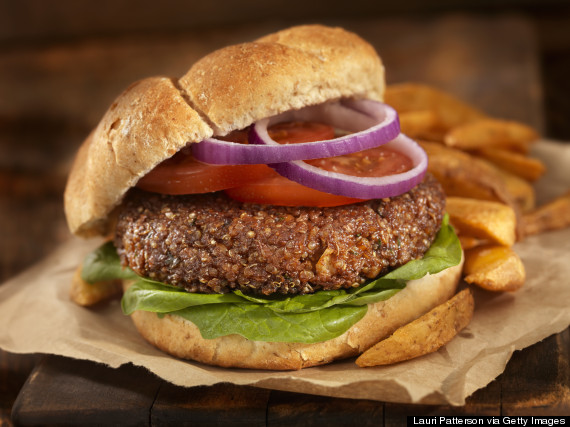 We have serious love for Gregory Sams, the man who invented the veggie burger in 1982. He understood that vegetarians get burger cravings too. Just to clarify: We're talking about real veggie burgers… you know, the ones made with black beans and mushrooms and grains. We can get pretty picky about it. Yeah, the veggie burger is our American staple.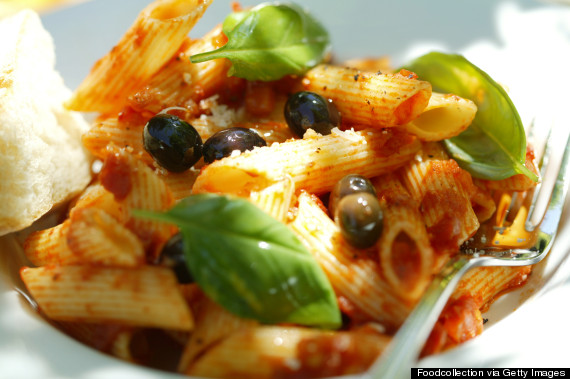 Pasta will never let you down when it comes to options: Stuffed shells, ravioli, stir-fry, and lo mein are just a few of our favorites. And, of course, the ultimate lazy vegetarian pasta meal: penne with tomato sauce. Pasta and sauce is a vegetarian's saving grace and it does the job for many easy and wonderful dinners.
Also, don't you dare forget about beautiful mac & cheese: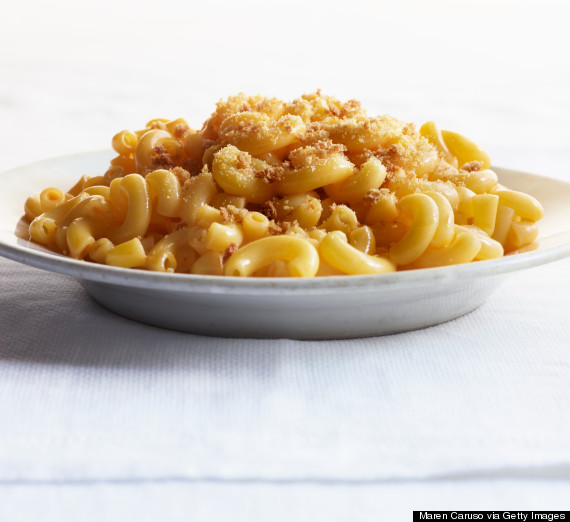 Vegetarians can enjoy just as many breakfast staples as meat eaters thanks to glorious eggs. We get to enjoy yummy veggie omelets, Eggs Florentine, eggs and potatoes, quiches and frittatas. Just hold the bacon!
8. Peanut Butter and Jelly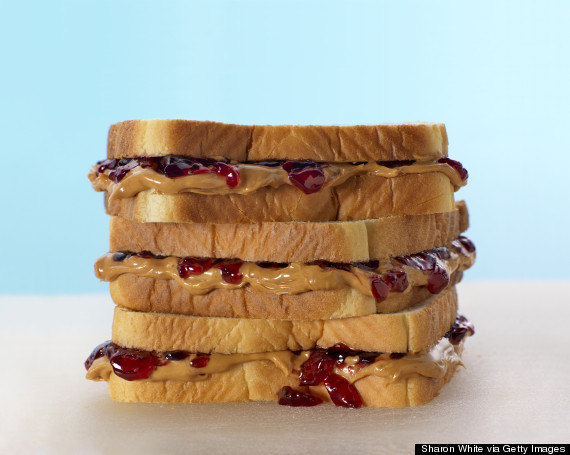 This is the one snack that meat eaters and vegetarians all enjoy as a child, therefore, it belongs in the top ten. Yes, you may eat a bunch of these when you are still figuring out how to be a proper vegetarian… but that doesn't mean that every single PB&J didn't taste absolutely scrumptious.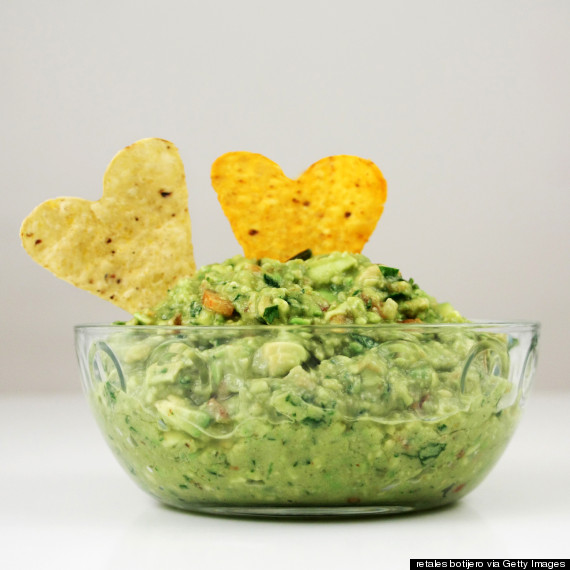 Sometimes it feels like guac was made just for vegetarians. Its the one thing that makes Mexican food very special for us. How many times have you asked, "Can I substitute guacamole for the meat?" And it's always a better choice.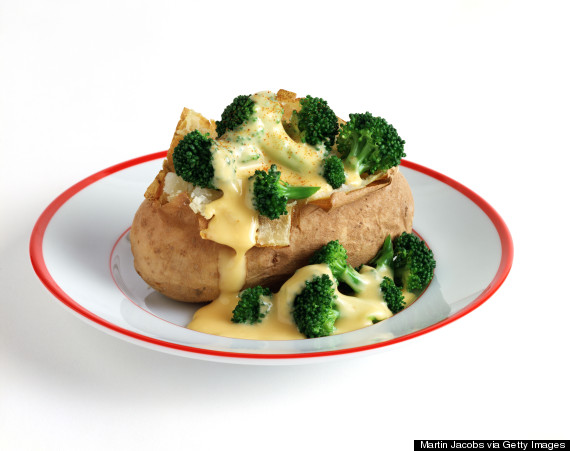 French fries, mashed, baked, chips, scalloped potatoes… need we say more?
5. Bagel and Cream Cheese
Cream cheese on a bagel is as important to a breakfast sandwich for a vegetarian as bacon is on a breakfast sandwich for a meat-eater. Without this essential combination, vegetarian on-the-go breakfasts would be majorly sad.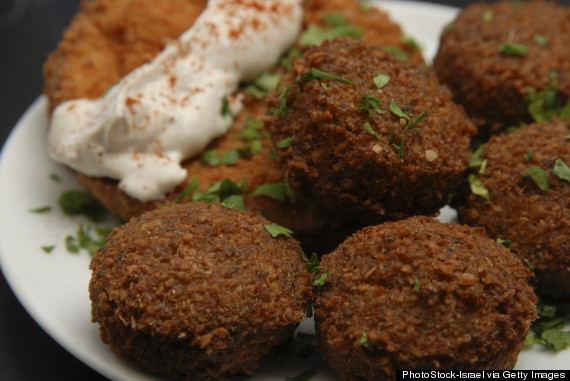 This is the vegetarian's ultimate street food. It's so good that we know some meat eaters who choose this over shawarma many times.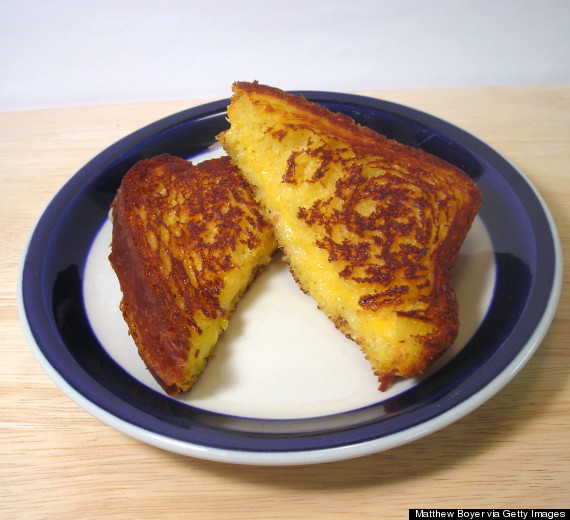 Thankfully one of the most trendy foods is mostly vegetarian-friendly. There's just nothing like two pieces of buttered white bread filled with gooey American cheese. Even the most complex of grilled cheeses are usually good to go for vegetarians. And we can always eat the dessert ones, like this amazing one made with Nutella and Mascarpone cheese from Grilled Cheese Social…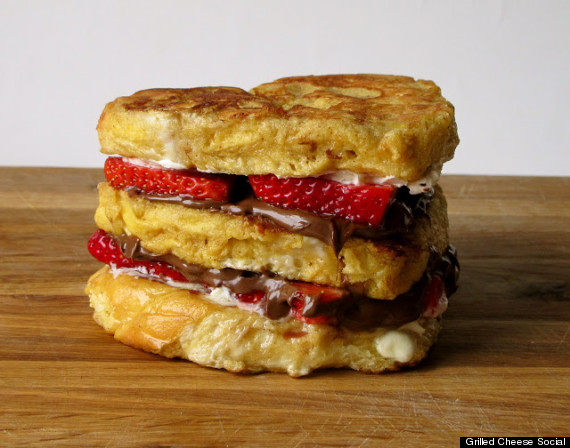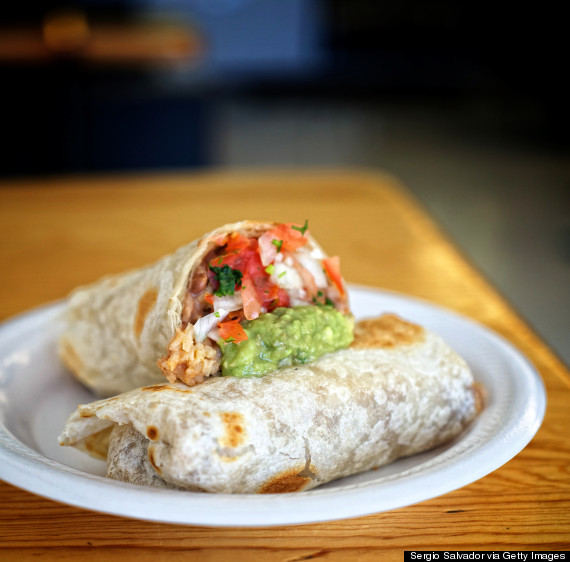 Burritos are great because they are one of the few things that seem to definitely have the fullness and taste equivalent to having meat. There are so many components of a burrito, you don't even miss or need the meat.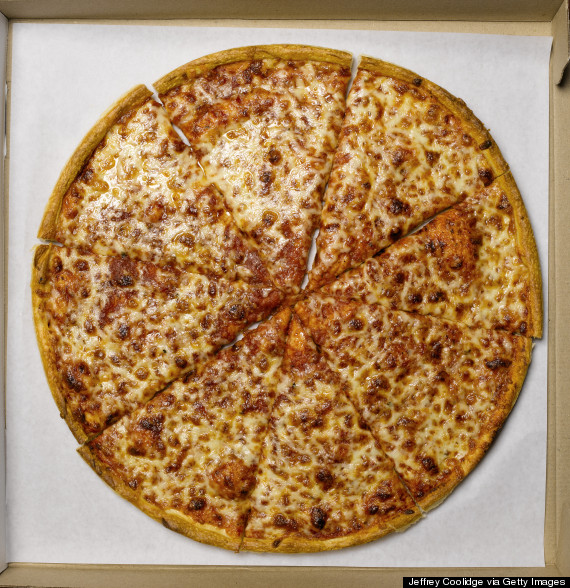 It's really simple: bread, tomato and cheese. But the complexity of pizza's greatness cannot be underestimated. Cities like New York and Chicago battle over how to perfectly make it (and Jon Stewart seems to have a serious hatred for Chicago deep dish). With all this competition, it is to the vegetarian's favor that the best pizza is when it is in its most basic form: just some cheese and sauce on great dough. It's almost impossible to make pizza taste bad (although college cafeterias certainly try). Even at its fanciest (truffle oil, overabundance of veggie toppings), it's always amazing.
Being vegetarian is awesome…
---
Source:
https://www.bustle.com/articles/149515-32-verified-currently-vegan-celebrities
https://www.viva.org.uk/vegan-vegetarian-pop-stars-musicians
https://bigseventravel.com/2019/03/50-best-vegan-restaurants-in-the-world/
https://www.huffpost.com/entry/best-vegetarian-foods_n_4373466